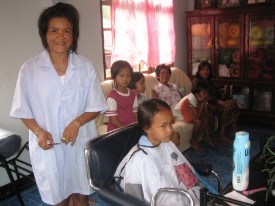 Massage- and beautyshop
Manida is a trained massage therapist and has diploma's from the famous Wat Pho institute in Bangkok in Thai-, oil- and foot massage. She can take care of any aches and paines you might have .... or may you might just want a relaxing massag.
Highly Recommended!
It is also possible to learn Thai massage from her.
She is also the local hairdresser and beautician. So for a perm, coloring, haircut or manicure you can just stay at home in the shop downstairs.
Ladies especially like the nail art on fingers or toes.