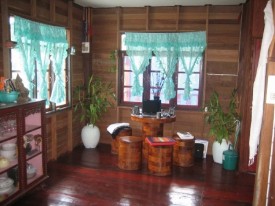 About the Homestay & Guesthouse

When you stay in somebody's home you come into contact with life as they live it. In the house lives Manida (39) she is a beautician and certified massage therapist. Manida's children Noon (17) and Gita (11) also live in the house.The house is located on the outskirts of the village.

Upstairs 100% teakwood is used: there are 2 guestrooms and a living room. When needed an extra room can be provided downstairs. Maximum number of guests is 6.

Downstairs is where the family lives: two bedrooms, a shop, a big kitchen and a living room. Downstairs are also 2 bathrooms: one for the family and one for the guests (with hot shower and western toilet). The house has wall and roof insulation.

In the courtyard is a bamboo house where food is served (but you can also eat upstairs).

There can be many visitors during the day both for the shop and also because people drop in very easily in the village. Sometimes children come to play in the courtyard, they are both curious and shy to foreigners. Not many village people speak English, but people are extremely friendly and hospitable. You will feel quickly at home!
Click here to see the slideshow of the house.