In the village
You can experience life of a small Thai village in many ways. Here are just some examples.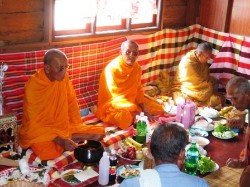 1. Get up at 6 am, it is the time the monks come begging in the village. People give them food and money for "good luck" they give very respectful. Watch the youtube movie on the video page.
2. Go at 6.30 am to the local temple (with Manida), there will be a daily ceremony. If you don't visit this ceremony you will have missed a vital part of village life.
3. Afterwards, drink tea or coffee at the local store in the centre of the village, at around 7.30 am people come to buy their necessities for the day and you will have the chance to meet them.
4. Visit the school at around 9.00 am, the teachers will welcome you and you can walk into the classrooms. There is a warm atmosphere of happy children.
5. At midday, go and eat noodles at the shop close to the homestay. Manida can help you with ordering. It is low fat, healthy and cheap.
6. Go swimming in a nearby irrigation lake, just 3 minutes walking from the homestay. It is not swimming pool clean water, but very very nice! Swimming during sunset and dusk in a natural pool with trees all around you. An experience you will never forget (and long for).
7. Ask Manida to make you "Thai Fondue" in the waterfall house. You will spend a few nice hours in the evening preparing your food in a Thai hot pot. If you are alone or like to meet people, you can ask Manida to invite some friends or children. Thai people love eating and socialising.
8. Go for walks in the fields, the early morning and afternoon are the best times.
9. Rent a bicycle, we have two mountainbikes and cycle around, you can also rent a motorbike.
9. In the hot season it is possible to see women weaving mats, perhaps you can buy one.