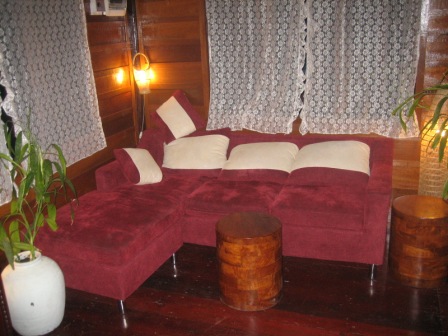 We don't rent rooms on a daily base anymore but you can participate in our
4 Days - 3 Night All Inclusive Programme
with English speaking guide
1 guest 7000 Baht - 2 guests 8,500 Baht
3 or 4 guests 10,000 TB (includes two rooms + use of 2 motorbikes)
Discuss with Manida each evening your wishes for the next day, also wishes that are not mentioned below.
Day 1
Pick up service (included) or self arrival, fresh juice, settling in, guided tour of the village,
dinner, massage of your choice (foot-, oil- or thai massage) 1 hour.
Day 2
Early bird option (can be done any day):
6 am: see monks begging for food
6.30 visit local temple with villagers
7.00 am drink coffee/tea in village store
Breakfast, walk to forest monks (2,5 km) , ceremony, walk back.
Lunch, relaxing at homestay, 4 pm visit local market to buy fresh produce,
cooking lesson, dinner.
Day 3
Breakfast, 9.00 am visit to the school, motorbike tour along back roads, visit villages
A swim in a nice pool.
Lunch at lakeside restaurant (included), afternoon walk to rice fields and back (5 km).
Play games at schoolyard, cooking lesson and dinner (or relaxing and dinner).
Day 4
Breakfast, walk in the village, say goodbye to new friends, bring away service.
Walks in the programme can also be done by motorbike or bicycles.
Included:
1. All meals (including 1 hot lunch at lakeside restaurant + Thai barbeque feast)
2. Guide service
3. Stay in airco room
4. Use of cozy living room and waterfall house
5. Free water, coffee, tea, 2 glasses of fresh watermelon juice per day (pls ask)
6. Free use of 1 motorbike and/or 2 bicycles
7. Entrance fee swimming pool
8. Cooking lessons and other mentioned activities
9. 1 hour massage per person
10. Use of dvd collection
11. Unlimited 3G internet access.
12. Pick up and bring away to bus-, train station or airport.
3 or 4 guests 10,000 TB
(usually includes two rooms + use of 2 motorbikes)
Not included: beverages and alcoholic drinks at homestay or during excursions, gasoline motorbike.

OPTIONS
On the page "excursions" you can see the excursions that are included in the programme.
On the page "excursion options" you see the excursions you can book additionally.
Cancellation policy
Cancellation policy after payment: 60 % refund 40 days or more before arrival day;
40% refund 20 -40 days before arrival day; 20% refund 10-20 days before arrival.