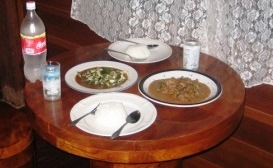 Learn how to cook Thai food
Manida is an excellent cook and can teach you how to make green curry (Geng Kiauw Wan), spicy soup (Tom Yam), stir fried vegetables Thai style (Pad Pak Ruan Meet) and much more ......
First go with her on the motorbike to buy the food on the market and then cook and eat together.
You pay for the food on the market and 200 Baht per lesson (max. 2 people).


If Thai food is not to your liking you can also order Western food from the menu.