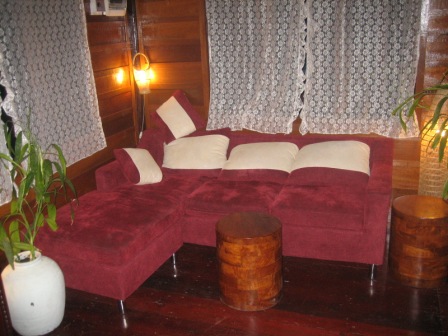 Please note: it is cheaper to book directly with us! Booking websites take a percentage which is charged to you above our price!
Guestroom 1 and 2 500 Baht/night Click here for info

Breakfast and lunch: 100 Baht/person
Dinner: 150 Baht/person
Full board: You will be taken care of very well indeed, fruit juice, breakfast, lunch and dinner deliciously prepared with locally bought fresh ingredients. Cost: 350 Baht/person/day. If you would like to eat more expensive foods like shrimp and steak please consult with Manida for a small surcharge.
Budget option: If you are on a thight budget you can eat at one of the small local eating places where you can eat noodle soup, fried rice and other food. Manida can show you where to go.
Internet: Free unlimited wifi.
Pick up service
Pick from Tha Phra and Khon Kaen is 300 Baht (one way) and to/from the airport is 500 Baht (one way). Bring Manida's telephone number just in case.
Car rental / excursion service
If you want to be mobile and drive around daily we advise you to rent a car in Khon Kaen.
This costs about 1000 Baht/day including insurance, excluding gasoline. Ask what is and what is not included in the insurance! The airport has a car rental desk, if you reserve in advance you can pick up your car there.

The homestay has a car available that can be used for excursions.
The car comes with a driver: Manida drives when you stay in area, uncle drives when you go further.
The price for the car is 1000 Baht/day, excluding driver and gasoline . Uncle (speaks very little English) charges 500 Baht/day. Manida usually drives for free or for the rate of guide service.
If there are more than 4 people: the neighbour has a sangtauw (pick-up bus) for up to 10 people. Usually you can rent him and his open (but with roof and seats) for about 2000 Baht/day (including gasoline if you don't go very far (more than about 150 km total.
Guide service
There are several excursions you can take. Manida's fee is 500 Baht per day for guiding and translation. A guided tour of the village is free for all guests.
Massage
300 Baht/hour, you can choose Thai, foot or oil massage.
Cooking lessons
First go with Manida to the market in Ban Don Noi or Ban Nun Ya Pet on the motorbike and then cook together with her. Price 200 Baht/person (dinner included).
Motorbike rental
300 Baht per day, maximum of 2 people per bike, gasoline not included.
Please be careful, when using a bike, many people get hurt in Asia every year because of motorbikes. Our excursions can be done with a car as well for a reasonable fee!